Jonathan W. Anderson

and

City of Oaks Law


provide solutions to clients facing legal issues.
Hire him for professional representation to accomplish your goals.
About Our Firm
Jon Anderson
Jonathan W. Anderson (Jon) is an attorney in private practice in Raleigh, North Carolina. He is the managing member of his law practice, City of Oaks Law, with offices on Fairview Road in the Five Points District.
He is a magna cum laude graduate of the Wake Forest School of Law. Before Wake, he attended the University of North Carolina at Chapel Hill graduating with honors in 2005. He earned a Bachelor of Arts in Sociology with a minor in Italian after studying abroad in Florence at the Lorenzo de' Medici Institute. He also graduated from the LLM program on taxation at the New York University School of Law in 2017.
Jon Anderson
Dean Achterman
Dean Achternam is a native of Wake Forest, North Carolina. He graduated from Campbell Law in 2014 and has been practicing with the City Of Oaks Law firm with a primary focus on real estate law. Dean completed his undergraduate degree at the University of North Carolina at Chapel Hill. He is an enthusiastic Carolina Tar Heel fan.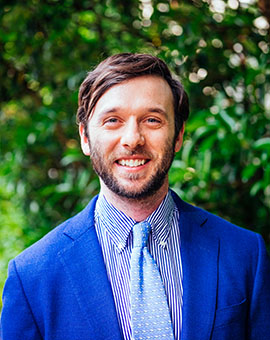 Dean Achterman
Vincent Nicolsen
Vincent joined City of Oaks Law as an intern in 2013 and has been practicing with the firm as an attorney since 2016. Vincent obtained his J.D. from North Carolina Central University School of Law and his undergraduate degree in Business Administration from the Poole College of Management at North Carolina State University.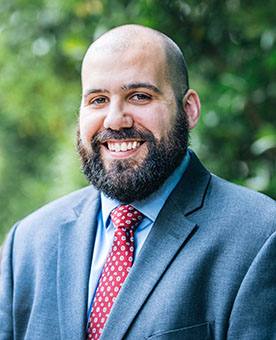 Vincent Nicolsen
Our Legal Services
Entrepreneurship
Entrepreneurship is a journey filled with risk, reward, and adventure. Whether you are promoting your first venture or launching your latest success, your efforts to protect the business and your interests in it legally will be time well spent. Organizing a business entity for limited liability is only the first step. Following the legal steps with the guidance of an experienced attorney can save you time, effort, and money on your journey to profitability.
Real Estate
The purchase of real estate is an exciting venture. Having a team of professionals on your side is crucial. Your real estate closing attorney is the last line of defense in assuring the soundness of your deal. Retain an experienced lawyer to look out for your interest.
Clerk Appointed Work and General Practice
In an effort to best serve our clients and community, City of Oaks Law handles various, miscellaneous general practice matters before our local courts. By way of example, our attorneys represent clients in matters involving traffic citations, guardianship proceedings, clerk appointed work, real property partitions and evictions. This area of practice is limited to client representation in Wake County, North Carolina.
Client Documents
FAQS
Q: Can I talk to an attorney?
A: Our attorneys spend much of the day in an out of closings and court and processing and finalizing that day's matters. In the brief moments between those matters we answer emails. Impromptu telephone calls are not the best way to have your questions or concern answered. We ask that you email with all questions and concerns and our attorneys will respond as quickly as possible. If you feel a telephone conversation is required, please email a request for a conference call and provide three available times.
Q: Has the deed been recorded?
A: The most efficient way to see if your deed has been recorded is to check your county register of deeds website. If you are unable to access this website your real estate agent should be able to assist. If your agent is unable to assist or if you do not have an agent, please email our office and we will respond as quickly as possible.
Q: Is my check available for pickup?
A: If the deed has been recorded your check will be available for pickup imminently.
Q: I bought my house before I got married, does my spouse have to sign the deed?
A: YES! This is a common misconception. In North Carolina, even if you weren't married when you purchased real property, your spouse must sign the deed (and other title related seller documents) at closing. You should always assume your spouse needs to sign the documents unless someone from our office tells you differently.
Q: How do I get my closing funds to City of Oaks Law?
A: We accept certified funds only. We do not accept personal checks. Alternatively, you may wire your closing funds. Before sending any wires, please call our office to confirm instructions.
Q: I'm a seller/buyer, do I need to sign my documents the same time as the buyer/seller?
A: No! You may schedule a separate, more convenient time to sign your documents at our office.
Q: Can I DocuSign (i.e., electronic signature)?
A: Probably not. Most of the documents you will sign at closing will require a "wet" signature. You should assume that the document cannot be electronically signed unless our office instructs you differently.
Q: Are walk-ins acceptable?
A: No. Documents are prepared in advance of appointments to ensure they are ready when you arrive. Please email our office to schedule an appointment.
Q: Do you have parking?
A: Yes! Our office has parking in both the front and back of the building.
Contact Us
Contact Form
Contact Details
Five Points Office Location (Main Office)
2021 Fairview Road
Raleigh, North Carolina 27608
Mailing Address
PO Box 6356
Raleigh, NC 27628
Telephone
(919) 578-3075
Fax
(919) 573-0806
Email
lawyer@lawofficejwa.com